About Douglas Lake:
Douglas Lake is comprised of 30,400 acres and 555 miles of shoreline. Located in the foothills of the Great Smoky Mountains, Douglas Lake is formed by the French Broad River and tributaries of the Nolichucky and Pigeon Rivers. Gently rolling hills offer beautiful vistas from every angle. Enjoy year 'round activities at the lake, including boating, picnicking, fishing, camping, swimming, and bird watching. Two million people visit Douglas Lake each year.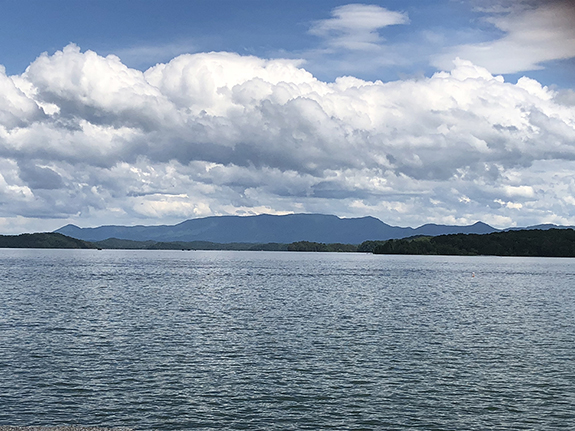 Douglas Lake. Image by Jeaneane Payne


When it comes to fishing, Douglas Lake covers it all! It is rated in the top 5 Crappie fishing lakes in the nation and in the top 10 Large Mouth Bass fishing lakes in the nation. Other good fishing includes: white bass, sauger, black crappie, striped bass, spotted bass, walleye, blue cat, flat head catfish, channel catfish, red horse, red breast sunfish and bluegill. Fishing is a year round sport at Douglas although spring and fall are the preferred seasons

Douglas Dam and other TVA reservoirs built during World War II made a historic contribution, providing hydropower to drive the war effort. The reservoir remains an integral unit in the overall water control system in the Tennessee Valley.

Under normal conditions, Douglas Dam stores spring rainwater for release during the dry summer and fall months to maintain adequate depth for navigation on the Tennessee River and to generate electricity. Water levels begin dropping in late summer to provide space for the next spring's rains.

Birdwatchers enjoy the fall migration of shore birds, wading birds, and other waterfowl that flock to Douglas from late July to early October. The birds rest and feed in the muddy shoreline and areas of shallow water exposed as the level of the reservoir is lowered to prevent spring flooding downstream.

Recreational Opportunities:
Auto Touring
Boating
Cultural or Historic Sites
Camping
Fishing
Hunting
Lodging
Picnic
Restaurant/Snack Bar
Recreational Vehicles
Museum/Visitor Center
Water Sports
Wildlife Viewing

Directions to Douglas Lake:
From Knoxville, go east on I-40 and take exit 417. Go south on Highway 92 two miles.

Most cabins are fully furnished. All linens are included. Firewood is furnished. All you need to bring is food.